PLR Digital Wedding Stickers
PLR Digital wedding stickers are the perfect way to add a touch of personality to your big day. Download includes over 200 pre-cropped stickers in a Goodnotes File and a zip drive of individual transparent PNGs.
These PLR Digital Stickers make a great bonus offer, opt-in freebie, giveaway, and more. Purchase includes a non-transferable PLR license.
Beautiful Wedding Digital Stickers for Goodnotes and Transparent PNGs for Android let you customize your planners, notebooks, social media images, and more!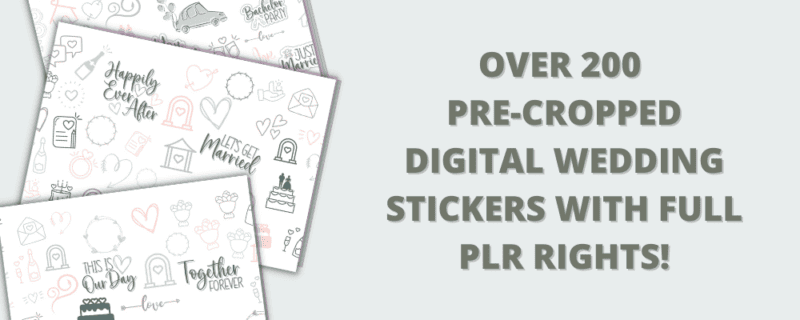 What Are PLR Digital Stickers?
These digital stickers are available as a free download offered to an unlimited number of people to have for personal use OR to grow their blog. Includes Goodnotes File plus individual PNGs.
What Can I Do With PLR Digital Stickers?
This PLR Digital Sticker Pack includes a non-transferable license to use as your own on your website/blog or social media as a giveaway or to sell to customers for their personal use. You may NOT sell these stickers to other publishers to publish or sell. Learn more: What Is PLR?